Summary
Graham Crowley Tutorials: " One of the best things I have ever done for my practice - so so helpful and inspiring."
Start:
Sat 13th September 2014 at 12:00
End:
Sat 13th September 2014 at 18:00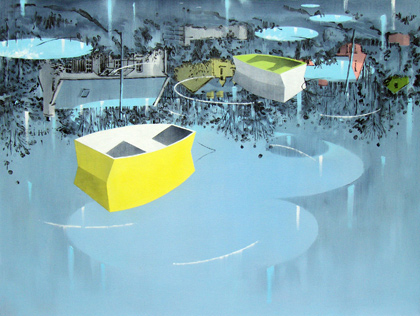 These one hour tutorials are designed for you to get useful, insightful and constructive advice and input about your practice from a professional artist and are a chance to discuss wider queries such as artist statements and career options, etc. 
You can bring artwork/ documentation of your artwork and/or laptops. 
The tutorials are £65 for ZAP Members with a £15 deposit taken now with the remainder to be brought on the day. You will need to be a ZAP Member before you sign up for a tutorial. Membership is now £22 for the remainder of 2014 and gives you discount on all our activities and opportunities to be part of our network events. 
Graham Crowley is one of the most distinguished living painters in the UK today. Crowley's paintings span a vast variance in style from the approprationist art of the 70s to his brilliantly luminous landscapes of the present day, tracking a fundamental narrative with political, cultural and personal histories within them. 
Born in 1950, Graham Crowley studied at St. Martin's School of Art London 1968-72 and Royal College of Art London 1972-75, and has held significant teaching posts including Professor of Painting at the RCA (1998-2006)Crowley was a judge on the 25 John Moores panel in 2008. As an applicant he has exhibited eight times, winning prizes in 1987 and 2006. www.grahamcrowley.co.uk
 Feedback
- 'It is seven years since I had a one-to-one crit, with someone who was prepared to look at my work and tell me, honestly, what they saw. And the connections, sparks, observations will nourish me for a long while yet. It was a liberating experience, the chance to say out-loud one's doubts and hopes, and to return to one's work feeling energised.'
- 'I had a tutorial/crit with Graham Growley, which was in equal measure challenging and encouraging - a brilliant combination. I found it productive and exactly what I needed at a point where I feel a bit unsure about where I want to go next with my work. It helped me clarify my ideas and contextualise my art."
- 'I would like to start by expressing a big thank you for the much needed kick up the backside that your crit gave me, it has spurred me on and given me the motivation to push my work to another level'
- "Phenomenal!"
- "It was a hugely positive experience for me, to have my work appraised in such a spirit of honesty and generosity. There was a real encouragement to follow my concerns and the exchange opened up some very helpful suggestions in terms of taking the work forward. I'm really starting to feel involved again and excited about my practice and am so glad I joined ZAP!"